True architectural design of the atlanto-occipital joints (AKA: O/A joints)
See also:
ATLAS
FACETS
AXIS
SKULL
TEXTBOOK ERRORS
Detailed composites of atlanto-occipital facets: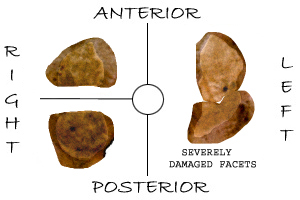 (also see at left)
---


(also see at left)
Definition: Atlanto-occipital joint - One of two joints, each formed by a superior articular pit of the atlas and a condyle of the occipital bone. [This definition is from Dorland's Illustrated Medical Dictionary © 1994. It is outdated since we now (1985) know that the atlanto-occipital joint is actually a single complex of two pair of articulating facet surfaces (one complex per side on both the atlas and the condyles - see above) with separate capsular membranes that connect to create a hinge of the isthmuses.]
The definition should read: Occipital-atlas (O/A) joint - One of two joint complexes, each formed by an adjacent pair of articular facets of the occipital condyle and an adjacent pair of superior articular facets of the atlas.
(See pictures above.)
---
Offsite information regarding atlanto-occipital joints:
Virtual Hospital: Illustrated Encyclopedia of Human Anatomic Variation: Opus V: Skeletal System: Occipital Bone (see first sentence of document) - I contend that this observation is the NORMAL design of the joints; this change in knowledge is just coming about VERY slowly. And, as Grandpa used to say, 'they don't yet understand what this means, or, what to do about it' ... all the more reason to demand the original.
Featured Blog Spot:




Proofs Introducing new science
History

Craton's articles on atlanto-occipital dissection (1985)
About the author

See Contract

See also: ATLAS FACETS AXIS SKULL TEXTBOOK ERRORS

Judge for yourself!

ERRORS ONLINE:
(1) From GateWay Community College
Phoenix, AZ
Created by Dr. J. Crimando
SUPERIOR VIEW OF THE ATLAS (C1)
(NOTICE SINGULARITY OF SUPERIOR
FACET; THEY SHOULD LIST TWO
FACETS PER SIDE. PLEASE COMPARE.)

(2) From Clinical Imaging Diagnosis:
DAVID, atlas of human anatomy
Developed by J. C. Oberson MD.
ATLAS, SUPERIOR VIEW

Regarding the three links directly above, I was able to retrieve all but the actual sketch of the Atlas, Superior View from the Wayback Machine archives recently. The last link directly above actually shows the page where it came from, but unfortunately the graphic is missing.
---

This page was first created in the summer of 1999 and last revised on September 17, 2022.



Copyright © 1999 - 2022 by Tammy Joy Kennedy. All rights reserved. DISCLAIMER: The Smoke & Mirrors graphic belongs to the NewsOK Blogging Community.