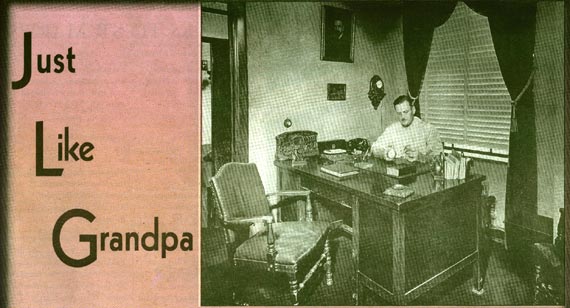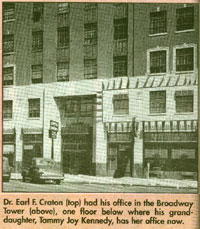 By Scott Fitzgerald
Staff Writer
---
Wisdom from a late Enid medical pioneer,
who traveled new roads in the field of
chiropractic, is being fine tuned and
offered to the public.
Tammy Joy Kennedy, granddaughter of Dr.
Earl F. Craton, opened Nerve Signal
Interference Removal (NSIR) Technologies
School of Alternative Healing in May.
"Grandpa was a stickler on doing it right. I am doing what
Grandpa wanted," Kennedy said.
Located on the Broadway Tower's third floor - a single floor above
where Craton had his office - NSIR specializes in removing the
cause of fibromyalgia, headache, back pain, sciatica, scoliosis,
asthma and more, Kennedy said.
"We want to get heard, make a difference and get the word out.
Grandpa was truly a good man," said Kennedy, who was Craton's
protege in his later years. She has continually studied his
research since 1988.
"I am rediscovering him in the literature. He (Craton) taught me
in increments," Kennedy said.
One of the first people to lease space and open an office in the
newly built Broadway Tower in 1931, Craton died here in January
at the age of 99.
The renowned chiropractor specialized in nerve signal interference
during much of the later half of his career. He believed that
distress does not result from spinal alignment, but from how the
head sits on its first vertebra - in particular, two pairs of facets.
Those findings were hailed by some colleagues, patients and
printed in chiropractic journals.
Craton studied chiropractic at Palmer College of Chiropractic in
Davenport, Iowa, graduating with degrees in 1925. He and his
sister, Ruth Payton, practiced chiropractic together in Shawnee
before Craton moved to Enid in 1929 and eventually located two
years later in the newly built Broadway Tower.
In 1957, Craton moved to Beaumont, Texas, and eventually to
Fort Worth where he continued his practice.
At the age of 80, Craton announced his retirement. In a story by
reporter Patricia Jimenez of The Fort Worth Telegram, at that
time, the reporter noted, "He (Craton) looks like he could be a
walking advertisement for his skill. He looks years younger than
he is."
Craton received the Texas Chiropractic College's Centennial Award
in 1995. He returned to Enid a year later.
Former OG&E Electric Services worker Rick Heras was referred to
Craton by Kennedy. Heras said he suffered migraine headaches.
Heras said Craton popped his neck and the migraines soon
disappeared.
"It sounded like he broke my neck. Whatever it was, it worked,"
Heras said.
---