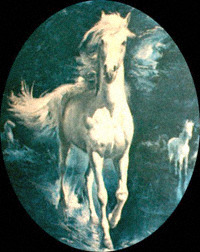 And the armies which are in heaven, clothed in fine linen, white and clean, were following Him on white horses. And from His mouth comes a sharp sword, so that with it He may strike down the nations; and He will rule them with a rod of iron; and He treads the wine press of the fierce wrath of God, the Almighty. And on His robe and on His thigh He has a name written, "KING OF KINGS, AND LORD OF LORDS."
---
Never send a man to do a woman's job ....
I am man, because I am HUman.
To all the ministers of Paul ....
"Stand down, or be destroyed!".
This page was first posted on February 23, 2003 and last revised on January 7, 2022.

---
Copyright © 2003 - 2022 by Tammy Joy Kennedy. All rights reserved.