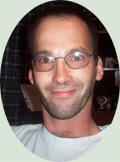 I'm Jeff Sherrill and I'm 33 years old, and I'm a big boy now and I can wear big pants too. And, I know what it means to make my own decisions.

I had previously been to a chiropractor, Barbara McFadden in Enid, and she rubbed the muscles that were hurting, and the pressure of her rubbing the muscle made the pain go away for the time being. But, the pain would always come back and she said it would take repeated visits for continued alleviation of the pain, and, there was no actual cure. So, I stopped going to her, and just thought I was going to have to live with my pain. And that's when I met Tammy.

It took Tammy three years to convince me that she might really know what she's talking about. I used to wake up every morning with back pain and I couldn't touch my chin to my chest without pain in my lower back. Tammy convinced me she knew what was wrong and she fixed it. She put my hip in place and then got a lift for my shoe because of a short leg. After follow-up (3 to 4 visits) with the hip, and a little time (3 to 4 months), I am a pain free happy camper!

4/14/2004
My Comments to Enid News & Eagle's:
"Controversial self-described healer at odds with Enid's licensed chiropractic physicians"
"VideoFest set for Saturday"
This page was first posted on June 8, 2004 and last revised on January 2, 2022.

---
Copyright © 2004 - 2022 by Tammy Joy Kennedy. All rights reserved.