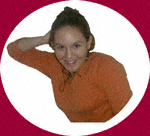 Hi, my name is Brooke. I'm fourteen years old. I'm also August's best friend. A few years ago, when I was about nine I asked Tammy if she had any aspirin for my headache. She said she wanted to try something for me. She was going to set my head back in place. After she put my head back in place the results were wonderful. My headache had gone away and I was feeling great. So I visit them often for Tammy to check on me. She would check my hips to see if they were out of place too. They were always fine.

Years went on and I turned thirteen. She checked me again. My head was out of place. She put it back where it belongs and checked my hips. I was having lower back problems; I had recently been working out to get in shape for school. Sure enough she found that my hip was out of place. She fixed it and I never felt so straight. I hated it because it took me awhile to get used to it. Now I'm straight as a board! Believe this experience, it's true. You'll love the results. So God Bless.

10/19/00
This page was first posted on October 19, 2000 and last revised on April 3, 2007.

---
Copyright © 2000 - 2007 by Tammy Joy Kennedy. All rights reserved.